Sign up for our free newsletter
Information Sheet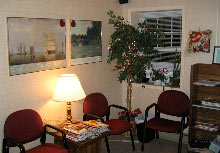 Andrew D. Evangelista
Practicing since 1979
Licensed Clinical Social Worker: LCSW
Certified School Social Worker: CSW
Licensed Clinical Alcohol and Drug Counselor: LCADC
Licensed Disaster Response Crisis Counselor: DRCC
Substance awareness coordinator: SAC
HIB coordinator and Anti Bullying specialist
Student Assistance Counselor
Treatment: short term psychodynamic therapy with a goal oriented approach
Individual, couples, family and group
Parent groups
Teen and middle school groups (Intervention)
Comprehensive alcohol and drug assessments, after-care counseling, referrals
Specialized in adolescent substance abuse, bullying, anger management life changes, grief reaction, adjustment, self-esteem and parenting issues, gender, and self-injurious behavior
Adult issues: couples, individual, life transitions, stress, men's issues, women's issues, co-dependency, addictions, family relationships
Works with many companies, provides EAP counseling
Age: adolescents, adults, and elders
Call for information and phone screening
Fees for Service
Fees $175 per hour for individual and family counseling
Group Counseling $100-$75 per session
Parent groups $75.00 per session
Clinical phone sessions and calls will be assessed as per hourly rate.
Drug screening : outside laboratory $60.00, quick screen in office $20.00 immediate results
Quick Screen drug kits $20.00 immediate results
Fees for services are expected to be paid in full immediately after services are rendered. You must give 24 hours' notice for a cancellation. If not the session fee will be charged to your account.
Speaking engagement for schools and community groups TBD
Returned check fee is $50.00 plus bank charge. Any collection service or legal fees are the responsibility of the patient or responsible party.
Late fees will be assessed for failure to pay balance in a timely manner.
We accept all major credit cards for counseling/service fees
Insurance
We do not accept insurance. However, we will help furnish you with a competed bill ready to submit to your insurance company after the first visit. We must emphasize that as providers, our relationship is with you not your insurance company as we are not a party to that contract. All charges are your responsibility. We will not become involved in disputes between you and your insurance company or any arrangements you make with your insurance provider. Therefore, for your protection, we recommend that you contact your insurance provider about deductibles, co-payments, covered charges and secondary insurances.
Confidentiality
All services provided to clients and patients at The Center for Creative Lifestyles are treated as private. All licensed professionals and their support staff, including interns and associate counselors, will protect and uphold confidentiality.
Exceptions
If you request in writing that information be released to a specific party for specific purpose.
That your counselor or therapist believes that abuse or harm has been done to a child.
If you make a serious threat to harm yourself or another person or destruction of property.
If your evaluation and/or treatment are court-mandated, and the court or your attorney requests a report about your attendance and or treatment status a release of information must be signed by you.
Calls after hours
Messages may be left with the CCL answering service on off hours at 973-226-4773. However, should you need to speak to someone urgently please call 911 or get to a hospital for emergency services. Crisis calls should not be left on the answering machine. Phone calls will be returned as soon as possible.
Thank you for visiting our website. Call for more information 973-226-4773