Sign up for our free newsletter
Counseling Cards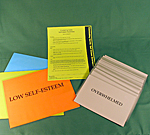 The Self Esteem Awareness Cards — $189.00 Laminated card sets
The Self Esteem Awareness Cards can be used by counselors, teachers, and peer leaders, paraprofessionals and parents in an individual, classroom or group setting to open up discussions about the different traits and characteristics of low, average and high self esteem. These brightly colored, large, laminated cards with descriptions are placed carefully to allow for meaningful discussions. A great peer leadership tool.

Click here to download a pdf datasheet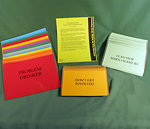 The Alcohol and Drug Awareness Cards — $189.00
Laminated card sets
These large, laminated cards provide a great discussion starter and educational tool for use in teen sessions. 90 descriptive cards are placed under 7 brightly colored, appropriate heading cards to examine the progression of first time users to problematic abusers. Excellent for use in rehabilitation centers, after-care programs, for outpatient counselors and school based prevention programs.

Click here to download a pdf datasheet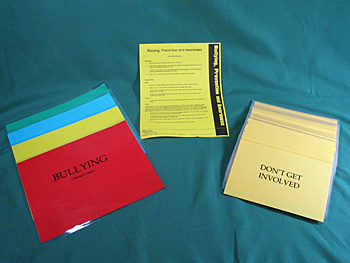 Bullying Prevention and Awareness Cards — $189.00
Laminated card sets
Bullying Prevention and Awareness Cards can be used to help victims and bullies to better understand their roles in order to affect changes. A perfect way to examine how teasing can esculate to bullying. The individual and group will understand the symptoms and characteristics of teasing, bullying and harassment and how the behaviors can affect students.

Click here to download a pdf datasheet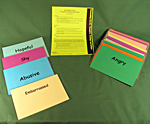 Thoughts, Feelings and Action Cards
— $189.00
Laminated card sets
These multi-purpose cards are great for use in advisory groups. The set includes 50 laminated cards that are great discussion starters to help address the many topics that face young people today. They can also be used as icebreakers for parent education groups as well as in middle and high school level advisory sessions.

Click here to download a pdf datasheet


Counseling products can be ordered via Credit Cards using PayPal or you can print an order form and fax it to our office. If you would you like to print out an order form that can be faxed to our office with your purchase order, Click here (this is a .pdf formatted file).